FD RX-7 Idler Pulley Kit BT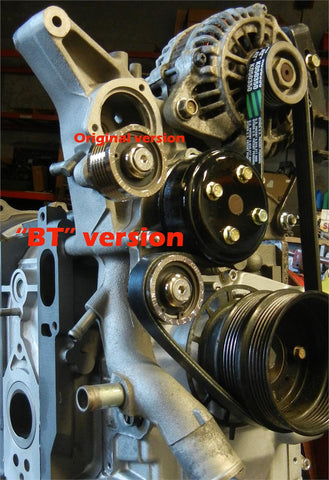 A Big Turbo (aka "BT") version of our FD Idler Kit is CNC machined and is truly bolt on. We include all necessary stainless steel hardware. You have a choice of belts to best match your application
The FD Idler Kit is CNC machined and is truly bolt on. We include all necessary stainless steel hardware. We have a choice of belts to best match your application. They are made by Pineapple Racing and are now available through us!
The drop down menu will help you pick the belt that should best fit for your application.
Aftermarket x-shaft pulley only, stock w/p and alt. 34.5"
Stock pulleys 35"
SR Mtr. Sports 35.5"
Aftermarket pulleys 43.5"

These sizes have been compiled from customer feedback. Feel free to email with your results! This helps others get the right belt the 1st time!