ACT Clutch Kit: Mazda RX7 Turbo 87-91, ACT-Z65-XXG4-KIT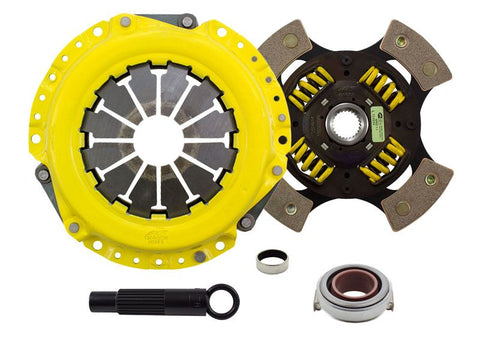 Kit comes with MaXX pressure plate, 4-pad spring-centered race disc, release bearing, pilot bearing, alignment tool, & can hold up to 625ft/lbs of torque.
Note: Flywheel requires Counterweight (Not included).
Z65-XXG4 kit features a MaXX pressure plate for the serious enthusiast. ACT MaXX pressure plates use exclusive diaphragm design to increase clamp load, reduce deflection and maximize clutch life. All diaphragms endure a four-stage, heat-treating process for unparalleled performance. ACT pressure plates have precision cover stampings to provide rigidity and consistency. ACT's 4-pad spring-centered race disc features a spring-center construction to properly damp torsional vibrations for quieter operation and resist failure even under harsh conditions. ACT spring retainers utilize wraparound spring windows and thicker retainer stampings to provide spring support, reduce stress concentrations, and increase strength and reliability. With the 4-pad spring-centered race disc, engagement is harsher, but shifting is faster. ACT's 4-pad spring-centered race disc is well-suited for smaller disc sizes in smaller engines.

Feel
A stiff to very stiff pedal feel; aggressive engagement with stock to low to moderate gear rattle

Life
Longer clutch life achieved through ACT's exclusive diaphragm design

Quality
Premium ceramic friction materials provide low wear rates and high heat tolerance

Recommended Use
Recommended for high horsepower street or race use

ACT Difference
All ACT pressure plates are dynamically computer balanced for smooth operation at high RPM Note: Images shown may not be for your specific vehicle.
Part # ACT-Z65-XXG4-KIT
Note: Image shown may not be for your vehicle
---
More from this collection