BorgWarner EFR 8374 Turbo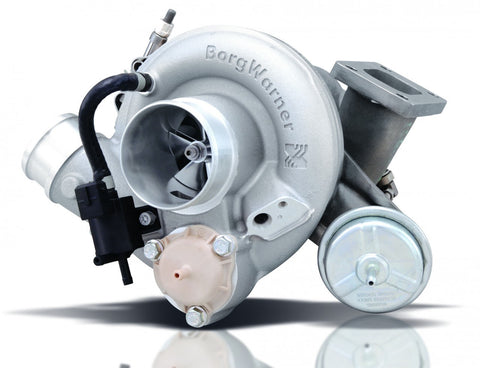 The EFR Series combines the engineering prowess of the turbocharger market leader, BorgWarner, with the most advanced race grade technology available. Using high-end composite materials, BorgWarner has created a turbocharger which has almost eliminated spooling lag, while maintaining massive power gains. If you are looking to unleash the full potential of your vehicle, there is no better choice than the EFR series. The modern standard in turbochargers, nothing can beat the combination of performance, features, and form factor.
The EFR 8374 is engineered to support massive power levels, but maintain spool times fast enough for professional time attack teams and street applications. The 74mm Gamma-Ti turbine wheel is an optimal match for the 62.6mm inducer / 83mm exducer FMW compressor wheel and is capable of 79lb/min airflow.
For horsepower addicts, this is one of the most exciting turbochargers in the EFR lineup, maintaining quick response time, while putting down an enormous amount of power. This turbo has the largest EFR compressor housing and supports up to 750 Horsepower!
Compressor Specifications
Compressor Type:

 Forged-Milled Wheel (FMW) Extended Tip

Compressor Wheel OD (exducer):

 83mm

Compressor Wheel Inducer:

 62.6mm

Max Flow Rate:

 79 lb/min

Built-in BOV:

 All EFR compressor housings incorporate an integrated BOV.

Compressor Housing Connections:

Inlet:

 4" Ported Shroud Hose Coupler

Outlet:

 2.5" Hose Coupler w/ integrated Vband option
Turbine Specifications
Turbine Type:

 Low Inertia Gamma-Ti Turbine Wheel

Turbine Wheel OD:

 74mm

Stainless Steel Turbine Housing - The EFR 8374 is available in (3) different turbine housing configurations, all use 3" vband (92mm OD): [list]

0.83 A/R T3 Single Scroll (Internal WG)

0.92 A/R T4 Twin Scroll (Internal WG)

1.05 A/R T4 Twin scroll (external WG)
Product Features Include
Low Inertia Turbine Wheel

Gamma-Ti turbine wheel cuts turbine inertia by roughly 50% dramatically improving turbo response.  Turbine sizes range from 55 to 80mm in exducer diameter
Heat Resistant Turbine Housings

Investment cast stainless steel turbine housings improve durability and offer an offer extremely smooth internal flow channel.  Turbine housings have thin walls to reduce weight and thermal inertia.
High Turbine Efficiency

Superback" and "Fullback" back-disk shapes offer very high efficiencies. The Superback shape adds a curved profile to the back-disk and has the effect of lowering centrifugal stress and permitting higher rotational speeds.
Enhanced Turbo Response

EFR turbochargers use a dual-row ball bearing cartridge with ceramic balls and metal cage.  This bearing system provides substantial friction reduction at low turbo speeds and in the process helps improve turbo response.  Metal cage improved the durability of the ball bearing assembly.  Less drag than standard ball bearing turbos.
Flexible Compressor Cover

The EFR turbo "large" cover has a dual-machined outlet, both for a hose connection and a v-band connection.
Simplified Installation

Integrated compressor recirculation valve (CRV) to help avoid compressor surge and backflow during a throttle lift event.  This feature helps to simplify the installation task and lowers overall system install cost
Forged Milled Compressor Wheels (FMW)

EFR turbos contain wheels that are fully milled from forged aluminum, commonly known as "billet".  Cut from custom forgings, their strength exceeds that which is available from typical bar-stock and also exceeds the material properties of an aluminum casting
Sensor mounting convenience

Speed sensor mounting provisions are also supplied on every compressor cover.  Speed sensors are sold separately.
Boost Control Solenoid Valve (BCSV)

A electronic boost control solenoid valve (BCSV) is included with every EFR turbo.
High Flow Wastegates

Purpose designed large wastegate ports give the wastegated EFR turbos the capability of handling the flow requirements of high performance applications
Ease of Orientation

Turbo orientation flexibility is facilitated by the wastegate bracket to bearing housing mounting arrangement.  V-band connections allow turbo to be easily clocked.
Adjustable Wastegate

The fabrication and installation task is simplified with wastegated EFR models that feature adjustable wastegates available in three different canister sizes.
---
More from this collection