Mazda RX-7 FD3S RHD Floor Mats - OEM Style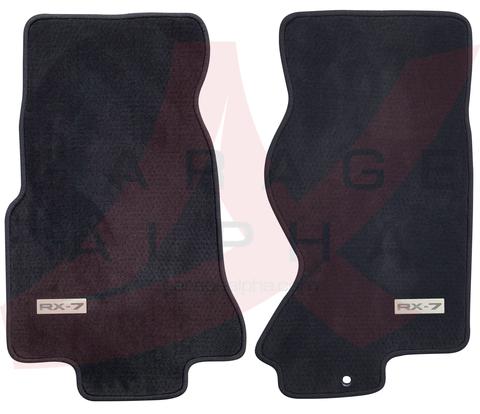 Trying to find OEM Style Floor Mats for your RHD (Right Hand Drive) 1992-2002 3rd Gen Mazda RX-7 [FD3S]? We've partnered up with an incredible manufacturer right here in the United States to bring you a product you can be proud of.  Starting with OEM Mazda mats from a RHD vehicle, we had pattern cut to fit the cabin of JDM models perfectly.
These are available in a number of configurations, so please read on.
OPTIONS
- Floor Mat Style (FORZA / GT / LUX)
- Mat Color (Black or Tan... no LUX Tan)
- Serged Border Color (Red, Black, Yellow, Tan or Custom)

MATS SPECIFICS
- FORZA - 22oz. Tufted Nylon Mat
- GT - 28oz. Tufted Nylon Mat
- LUX - 42oz. European Style Berber Nylon Mat

ADD-ONS
- 'RX-7' Shields like the JDM mats - $50
Please keep in mind - these are a made to order product with custom colors / options. Plus, the addition of the 'RX-7' Shields is a manual process. Orders without shields may take a week to ship, orders with shields may take up to three weeks to ship. However, we will update your order with tracking ASAP. Thanks.
---
More from this collection