EBC GD SLOTTED ROTOR: MAZDA RX-7 86-92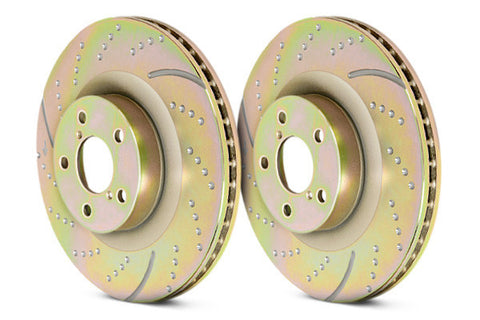 ** Currently on backorder, soft ETA April 2023**
We personally use these rotors on our #26 Time Attack FC RX-7 and have had great results. These are for the 5 lug, 4 piston caliper brakes, and vented rear rotors. They will not fit the 89-91 single piston caliper, non vented rear rotor cars. 
Choose from EBC plain non drilled rotors or sport rotors in two choices - wide aperture 3GD series for cooler running or new SUPER SILENT Ultimax USR slotted series. On a global scale Most EBC rotors are made from British castings and 100% of these are precision machined in either the UK or the USA. EBC Brakes has 14 machining centres in these two countries to manufacture these precision parts. Rotors are made from high quality grey iron to exacting standards and undergo extensive testing and rigorous quality control and are then precision machined to your chosen slot or dimple pattern. 

The dimple drilled rotor was invented by EBC back in the 90's and has been imitated by many because of its ability to offer pad degassing without "Through Drilling" disc or rotor holes which has been shown to promote rotor cracks. 

The wide aperture slots on the EBC units actually draw cool air under the brake pad and rotor interface and help cool the temperatures of the pad contact which can shoot up to well over 1000 degrees at the very heart of the brake pad during heavy braking and can cause brake fade or loss of brake effect. 

These "Full sweep" slots on the EBC Sport Brake rotor also help remove dirt dust debris and water from the braking area but without doubt the MAIN benefit of such sport rotors is their ability to maintain a flat and parallel pad surface throughout the lifetime of the brake pad set. 

One point to consider before making your choice of sport rotor is the air noise that can be noticed with sport rotors. With all slotted rotors there will be an increase in air noise as the rotor passes beneath the pads under normal driving and braking. Some people like this kind of "Turbo" sound and others do not. 

For this reason EBC produce two ranges of sport rotors, the 3GD or GD series being discussed here are the noisier of the two designs, our sister range the USR sport rotor range is MUCH quieter yet offers similar performance values. 

Make your choice before you buy please. 

Experience has shown us that on Truck and SUV the GD or 3GD series wind noise is almost unnoticed and on faster and tuned sedans and hot hatches the GD or 3GD series as we call them (they are both exactly the same item) is the preferred choice. 

If silent braking with performance on a prestige or quiet car is your target buy then opt for the USR series, shown by clicking this link USR series.
---
More from this collection