Full Race WG Blanket For TiAL MV-R 44MM & MV-S 38MM Wastegates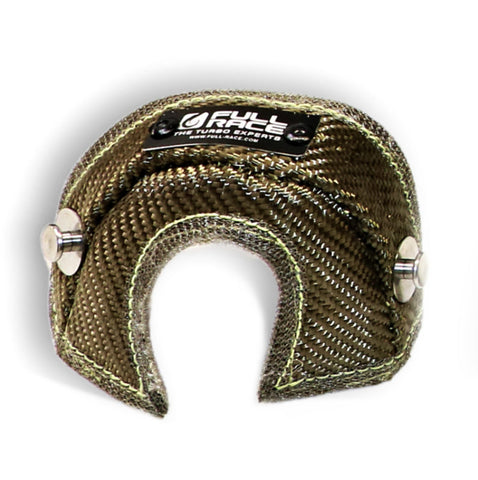 Full-Race's WG Blankets minimize heat transfer to the wastegate diaphragm, resulting in increased boost control consistency and optimized performance of externally wastegated turbocharger setups.
Wastegate diaphragms are exposed to some of the most extreme and localized heat found in your engine bay, plus constantly heat cycling – This is the number one reason for wastegate failure, boost leaks from the wastegate, and inconsistent wastegate operation.
Full-Race WG Blankets are designed to withstand the harshest of conditions and extend the life of TiAL MV-R and MV-S wastegate diaphragms, as well as protect nearby components from damaging heat.
Our new WG Blankets are constructed with an outer layer made from basalt volcanic rock (Rated 1800°F Direct Heat / 2500°F Radiant Heat) formed into fabric and woven into a tight mesh weave using Kevlar thread. Full-Race WG blankets are internally insulated with high temperature calcium magnesium silicate wool (Rated 1832°F Continuous / 2300°F Peak) overlaid with a high temperature stainless steel mesh for increased durability, improved thermal resistance and proper fitment.
Fitment Info:
TiAL MV-R 44MM
TiAL MV-S 38MM 
*Can also be used as a universal WG blanket / heat shield for other similarly sized wastegates (TurboSmart and PTE External Wastegates with dimensions of 100mm x 106mm)
What's Included?
Full Race WG Blanket For TiAL MV-R / MV-S Wastegate
Stainless Steel Spring and Stainless Steel Wire to provide a perfect fit
What does volcanic rock have to do with wastegates?
90% of the world's volcanic rock is made up of basalt – this unique material can be extruded and melted into filaments and woven like a traditional cloth fabric.  Soft to the touch, this one of the toughest and most heat resistant materials available.
NOTE: 
Wastegate shields are not designed to be removed after the first heat cycle. The fibers lose their initial flexibility after they are exposed to the extreme heat of a turbo housing. This does not reduce the thermal properties of the shield.
If you are installing the WG Blanket using the included safety wire, be sure to bend over a small "pig tail" to avoid being cut by the sharp end of the wire protruding out into the engine bay. Twist safety wire approximately 7-10 twists per inch using pliers or twist by hand. Over twisting will cause the wire to snap. See example:
---
More from this collection