Mazda RX-7 FD3S Titanium Parking Brake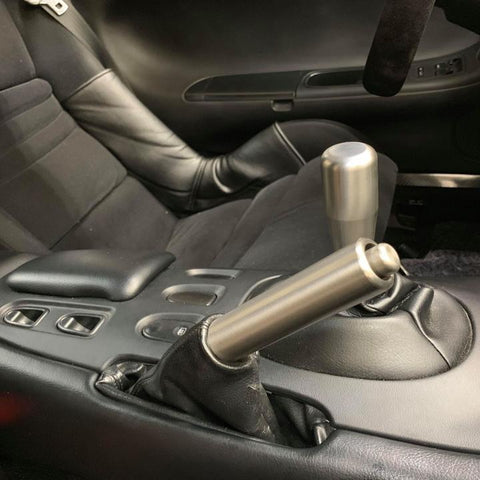 The MAZDASPEED Titanium Parking Brake is one of those pieces that just doesn't exist anymore.  It's beautiful, rare and perfect in every way.  When you can find them on the used market, they sell for upwards of $500 or more, but at that price - who can really justify it?
Garage Alpha set out to offer the titanium parking brake that fits right, looks great and doesn't break the bank.  Made from Grade 2 titanium and manufactured to exact tolerances, this titanium emergency brake is the perfect touch to any interior any looks perfect paired with our Titanium Shift Knob.
Based on the original MAZDASPEED parking brake design
Includes titanium handle and release button
Installs over OEM parking brake assembly (rubber handle must be removed)
Matte Silver OR Burnt Finish
Grade 2 Titanium
Includes Titanium Parking Brake and Release Button ONLY.  No shift boot or parking brake assembly included.
THERE IS A LIMITED AMOUNT OF OEM PARKING BRAKES GARAGE ALPHA CAN INCLUDE AS A CORE SO YOU DON'T HAVE TO CHOP UP YOUR OEM PARKING BRAKE.  IF YOU WANT ONE, PLEASE SELECT "YES" FROM THE 'ADD CORE' DROP DOWN.
---
More from this collection