Racing Beat Race Exhaust System 04-11 RX-8, 16396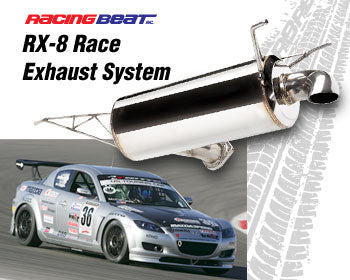 The Racing Beat RX-8 Race Exhaust System is a lightweight exhaust system that is intended for race applications. Originally designed to meet the demands of RX-8 autocross racers, this system is significantly lighter than the stock system and has been designed to meet a race track-imposed 92db sound limit*.
System Weight
The Racing Beat Race Exhaust System has been designed to offer a significant weight reduction over the stock RX-8 system, compare the following:
Stock system + connecting-pipe = 39 lbs
Racing Beat Race Muffler (17.5 lbs) + Connecting-pipe (8 lbs) = 25.5 lbs
This is a 34% reduction in weight over the stock system!
All components are handcrafted using 304-stainless steel materials for excellent durability and strength. As a weight saving measure, we decided to eliminate the decorative tip outlet, and instead provided a downward-angled outlet pipe. This pipe reflects exhaust noise downward in an attempt to further dissipate the sound.
Power Output
Performance gains are comparable with our REV 8 Street Exhaust:
Stock production engine - with muffler removed +5 HP
Stock production engine - with RB street or race exhaust + 3.5 HP approx.
Sound Quality
While louder than the stock system, particularly under full throttle, this exhaust system can be used for those looking for a very aggressive exhaust tone for their daily-driven RX-8. A modest driving technique will produce a moderate and tolerable exhaust tone, but jump on the throttle and this exhaust really comes to life. Full throttle does not produce a buzzy or harsh, but a more exotic sound like that of a tuned V-6 engine. During a long-distance trip to the race track during prototype testing for this system, our independent test driver commented that highway cruising was very tolerable, without any droning sounds or harmonics.
This exhaust system is equipped with a stainless steel connecting pipe and all required mounting hardware.
*Measured approximately 50' away from the side of an otherwise stock 2004 RX-8 MT under full throttle. Your actual decibel reading may vary. Other factors, including atmospheric conditions, additional performance accessories, tires, etc.. may cause variations in your actual sound measurement.
---
More from this collection