Radium Injector Seats for Mazda Top Feed Fuel Rails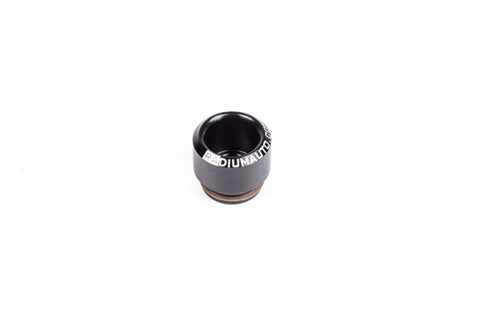 These are the same machined aluminum injector seats used in Radium fuel rails for Mazda/Eunos Cosmo and RX-7 rotary engines. They are required when converting the OEM 16mm injector seat's counterbore to 14mm which is more common with popular injector lower O-rings. They simply "pop" into the OEM injectors bore. They were designed specifically to be compatible with or without the OEM fuel injector diffusers installed. They seal to the machined injector counterbore using the included Viton O-ring.

They can be used for the primary fuel injector iron ports. They can also be used for OEM intake manifold secondary injector ports 
NOTE: most aftermarket lower intake manifolds are already machined with 14mm lower injector O-ring ports.
---
FEATURES
-Compatible with or without OEM diffusers
-CNC Machined Billet 6061 Aluminum
-Type-II Black Anodizing
-Laser Etched Logo
-Boost and fuel compatible Viton O-ring 
---
SOLD INDIVIDUALLY
13B-RE requires 4 total (2 primary+2 secondary)
13B-REW requires 4 total (2 primary+2 secondary)
20B-REW requires 6 total (3 primary+3 secondary)
---
More from this collection