REN.V1 Race Pipe 04-11 RX-8, 16201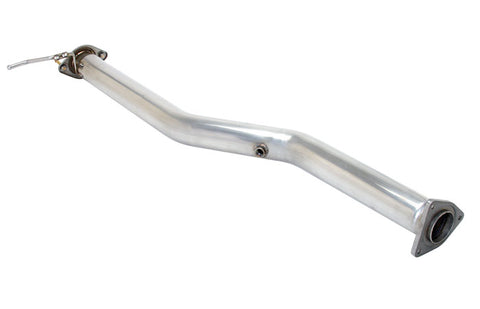 Racing Beat REN.V1 RX-8 Race Pipe
RX-8 Race Pipe - 2004-2011 RX-8 - Racing Beat offers a full 304-stainless steel catalytic converter replacement pipe for RX-8 racing applications. The weight of this pipe is 10 lbs. This mandrel-bent 3" OD racing pipe is a direct bolt-on replacement for the stock catalytic converter section. This pipe utilizes a genuine OEM rear mounting flange for a secure fit to the stock (or an aftermarket) exhaust system. (See photo below.) The race pipe is equipped with a sensor fitting for the oxygen sensor. (Note: Placement of the sensor in the pipe will cause the "check engine" light to be illuminated, but performance and engine systems for racing applications will not be affected.) Removal of the OE catalytic converter/presilencer section will result in a noticeably louder exhaust tone.
Each race pipe comes complete with all required mounting hardware, gaskets, and installation instructions.
* Legal in California only for racing vehicles, which may never be used upon a highway. 

This part is on backorder. Estimated availability: 03/01/23
---
More from this collection