Rotora Street Challenge BBK: Mazda RX-7 FC3S 86-92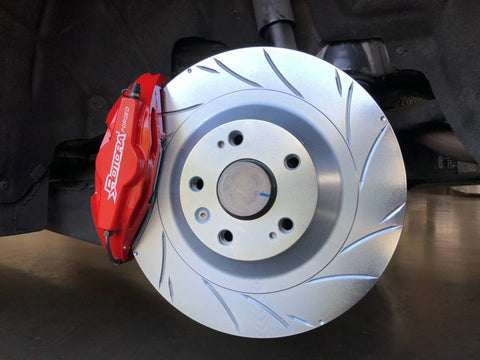 ** 1 piece rotors currently not available**
This is a street version of the Big Brake Kit on our #26 Time Attack FC RX-7. These kits are for the 5 lug FC RX-7. For Street use and track day fun. For a more serious track only package please see our "Super Challenge kit".
1 or 2 Piece Front Rotors 328mm x 28mm (4 Piston Caliper)
1 or 2 Piece Rear Rotors 328mm x 22mm (2 Piston Caliper)
Rotora®'s high-performance Street Challenge Brake System enables superior brake modulation while improving overall pedal feel to ensure equal distribution of weight transfer when braking.  To achieve this proportional front-to-rear brake bias, Rotora®'s brake systems are strategically engineered to work in conjunction with the original vehicle stock master cylinder thereby producing shorter stopping distances.  In using larger calipers and discs made with stronger, lighter weight material, Rotora® Brake System's thermal capacity and brake torque is increased over the vehicles original brake system.  These are the design enhancements that are demanded in high-performance street and track vehicles.  All Rotora® Brake Systems are fully compatible with ABS and traction control systems.  All brake components are direct bolt-on systems for production vehicles with minimal modifications required. 
Components/Features:
Rotora® forged aluminum 2, 4, 6 or 8-piston calipers with sequentially sized piston bore sizes engineered to each specific vehicle and to minimize pad taper wear for longer pad life.
All Rotora® calipers are fully forged (2024-T6) for optimal strength, stiffness and light weight.
High temperature dust boots are included to reduce caliper maintenance.
Rotora® two-piece constructed billet 7075-T6 forged aluminum hat to reduce heat related stress and unsprung weight.
Rotora® Anti-Rattle Float Drive Hardware for two-piece discs systems to allow discs to expand and contract under extreme usage.
Rotora® 1 or 2-piece directional vented (heat treated) discs to increase airflow/cooling under severe braking.  Slotted or drilled oversize discs up to 16" (405 x 36mm) to ensure increase thermal capacity while relieving the disc and brake pad surface free of excess debris.  All discs are coated with anti-corrosion zinc plating as added rust protection.
Rotora® 7075-T6 billet aluminum forged caliper bracket (depending on application) to reduce unsprung weight.
Rotora®'s range from ceramic to carbon metal brake pads are designed to accommodate street to extreme track use with high co-efficient of friction and high temperature fade resistance.
Rotora® DOT compliant stainless steel braided brake lines to improve stiffer pedal feel and prevent brake hose expansion.
Please add a note for which caliper finish and brake rotor style you would want. Natural-Anodized finish adds $100 per caliper. 
---
More from this collection