Silicone Boost Hose Kit RX7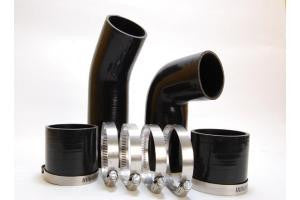 The Pettit Racing Silicone Boost Hose Kit for your RX-7 provides a simple, reliable and effective way to upgrade your old OEM hoses, which commonly deteriorate and fail. These direct replacement silicone hoses are designed to exceed the extreme need of your RX7 rotary powered vehicle and improve boost response by minimizing hose expansion experienced with factory hoses.

Our Silicone Boost Hose Kit is sold in black because the colored hoses are nearly impossible to keep clean, and here at Pettit we like to keep it simple. Speed and Beauty! All Pettit Silicone Hose Kits for the RX-7 come with stainless steel hose clamps for easy installation.
Mazda RX7 1991 - 2002
---
More from this collection