Spinning Rotor Keychain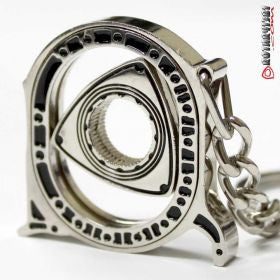 Finish: Nickel Plated
Design: Double Sided
Size: 37mm x 37mm x 6mm
Key ring Size: 25mm
Total Length: 95mm

This Signature Spinning Rotor Key Chain features a Rotor that can be rotated in the same pattern used by the real Wankel Rotary Engine, with each apex of the rotor sweeping along the Peritrochoid shaped Rotor Housing. As well as being a key chain, it is also an ideal educational tool to demonstrate how a Wankel rotary engine works to those who are unfamiliar with Rotary POWER! Whether you have a 12A, 13B, or even a 20B, this key chain is a perfect miniature of your Rotary Engine!

---
More from this collection