STOPTECH FRONT BRAKE LINES: RX7 93-95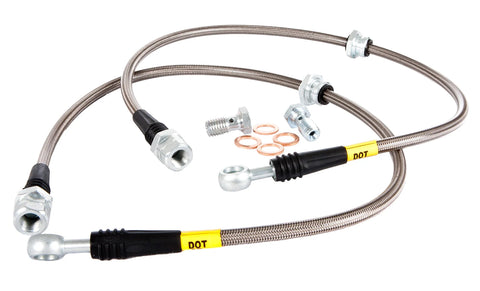 Stoptech Stainless Steel Front Brake Lines, for Mazda RX7 93-95
STAINLESS STEEL LINES

StopTech stainless steel brake lines improve pedal feel and reduce the amount of time between applied pedal pressure and actual deceleration by preventing expansion, which stock rubber flex lines allow. This provides a quicker pedal response, and allows the driver to maintain consistent brake pressure and precision brake modulation.
StopTech brake lines consist of a Teflon® inner line that is covered with a layer of stainless steel woven braid. The Teflon tube is very resistant to expansion under pressure and will not degrade from exposure to brake fluid. The stainless steel braid provides support for the Teflon and the weave is extremely durable against incidental impact and abrasion. StopTech brake lines feature a Clear Abrasion Resistant Cover for maximum protection against chaffing.
All StopTech Stainless Steel Brake Lines are DOT (United States Department of Transportation) compliant and 100% tested to a pressure of 4500 psi.
---
More from this collection