Trak Pro Cold Air Intake RX7 FD3S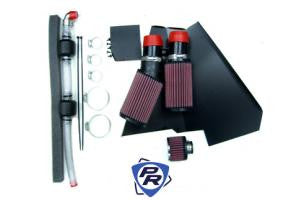 When Pettit's TKT Cold Air Intake for was first offered back in 1992, it was one of the first systems for the RX7 FD to provide a substantial improvement in performance and longevity. Simple to install & service, with performance unmatched by any other system. Installing the off road version is even easier! Today, as then, it is still the only system produced with all the following benefits:

Unrestricted cool ambient air feeding both turbos.
Off Road Cold Air Induction System. This is the ideal setup for modified RX-7's that have emissions and air pump removed. You still get all the benefits of our Cold Air Induction but save $100.
This induction is compatible with nearly all intercoolers that mount in the stock location, and can be modified for use with virtually every imaginable setup.
The complete kit bolts in the stock air box location in about an hour using basic hand tools. Included are fully illustrated instructions and all necessary hardware.
Dual high performance K&N filters, full unrestricted flow & excellent filtration provides 2/3 more flow area to help better discharge hot air exiting the radiator.
Simple, effective, proven and by far the easiest to install and service.
Our IDC kit boosts the stock intercooler's efficiency by 30%, a nice little bonus.
Another bonus: Pettit's modular design easily adapts to work with nearly any Intercooler setup.
Our Cold Air Induction has long been the smart choice for RX7 FD tuners and owners world wide. It is rated as the best induction system for the Twin Turbo setup and proven to feed your turbos clean, cool air, lowering charge temps and providing performance & longevity better than any other system available.

Outstanding & unique design feature include:

Our V-duct system feeds both turbos cool outside air from the front nose opening instead of robbing air from the intercooler or just taking in hot air from the engine compartment, both are common with most other systems. We supply two big K&N air filters; one per turbo. Another simple design is the ICD Cover Kit; it provides a 30% gain to the stock intercooler's efficiency. This is accomplished by taking the cool air that was originally used to feed the stock air box (or in many cases it is just left open to be wasted) and redirects it into the Intercooler, this further drops charge temperatures, providing a cooler more dense charge. Also included is a dynamic silencer unit to minimize air by pass noise from emissions system on cars with air pumps.



---
More from this collection