Trak Pro Sway Bar RX8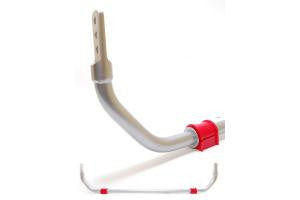 The Trak Pro Front Stay Bar (anti-sway) fits all RX8 models and is designed to work with the stock RX8 rear stay bar (anti-sway), improving stability (less body roll) through curves or when cornering at speed, as well as providing better response and feedback from steering inputs. More cornering force (lateral acceleration / G's) and better driver feedback not only adds confidence but is more fun. Another benefit is minimizing RX-8 power over–steer (loose rear) especially with performance upgrades that add power. "A Trak Pro Stay Bar will make your RX-8 faster!!"

Three-way adjustable via special end mounts allows precise tuning for optimizing grip under most conditions. CNC machined billet steel adjuster and all top quality materials are used to manufacture this part. Made in the USA.

Average installation time for your RX8 is 30 minutes. It mounts in the stock location with ordinary hand tools and requires the front of the car to be raised.

Includes (1) Trak Pro RX8 Front Stay bar and (1) Urethane Bushing Kit.


---
More from this collection