Turblown Engineering 13B RX7 Rotary Engine Stud Kit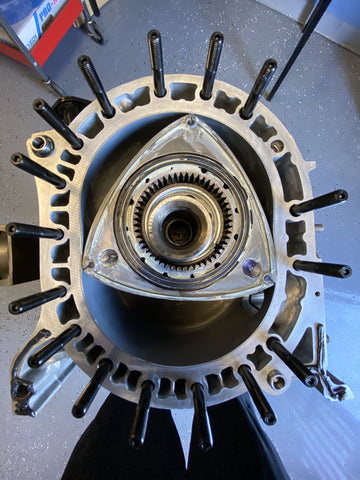 ** CURRENTLY BACKORDERED ON 8/22/23**
The Turblown Engineering Rotary Engine Stud Kit is designed for High Horsepower applications. These studs are available for all 13B engines including the MSP-13B Rx-8 engine, 13REW, 13RE, 13B, & 13BT. This stud kit is a more linear, and precise medium of torquing the engine compared to stock tension bolts. Torquing the stock bolts creates friction at both the threads, and head of the bolt. This unnecessary friction promotes false torque readings and the result is reduced and uneven clamping force. Instead of twisting a bolt to achieve a desired torque reading, studs are stretched in a static position. Furthermore and more importantly these studs are made from far superior material & manufacturing process which increases clamping force evenly, and limits engine expansion. The OEM bolt material stretches under high boost and in turn, reduces clamping force. An engine using the OEM bolts will expand several thousands, as measured with a strain gauge on an engine dyno. This expansion can damage to the engine's internals. Common harmonic, and resonance issues are reduced due to the superior material used in the stud manufacturing. Installing these studs will reduce engine expansion and movement which is a must for a high powered rotary. 


Turblown Engineering has been manufacturing these studs since 2006. These studs are precision ground from aircraft quality forged steel. The threads are hot rolled, not just cut with a die or a lathe. The course end is embossed with a allen head for easier installation. They are rated at 195000 PSI tensile strength after the heat treating process. One can torque these much higher than the OEM bolts without any breakage( maximum of 77 ft lbs for studs, please be aware front iron might break near this limit). The studs are finished in a black oxidation coating. No machining is required for installation.
Read more about the manufacturing process & testing here. 

Studs are compatible with OEM or aftermarket flywheels( S4 flywheel will require a bottom end tap to be used on front iron to achieve as much thread depth as possible) Replaces all 16 inner tension bolts for 13B engines, Rx-8 engines kits replaces only 13 tension bolts. Service life will not reduce like OEM bolts, these are re-usable. Studs should be torqued to 3 inch lbs, and the nuts to 40 Ft lbs( in 4 ft lbs increments using the OEM torque pattern). Lubricate the front iron threads, and use a silicone sealant near the OEM sealing washer threads(OEM sealing washers not supplied). If using lubricant on the OEM sealing washers, use brake clean and wipe the studs clean once the sealing washers are installed. Let the sealant on nuts setup overnight and pressure test engine coolant system to confirm proper adhesion of silicone sealant. Pineapple Racing Pressure tester or equivalent is recommend to use before engine installation.

The Black Mamba Racing Beetle runs the Turblown 13B stud kit with zero other modifications. It makes in excess of 900rwhp and has run a best of 8.5 @ 153mph in the quarter mile! 
Bacon Sports Racing 13B FD runs an 8.25@167 with the Turblown 13B stud kit. 
NTB Tire FormulDrift Rx-8 ran the Turblown 13B Stud kit in every engine.
For more information, click down below:
https://turbosource.com/blogs/news/the-science-behind-turblown-engineerings-13b-rotary-engine-stud-kits?_pos=1&_sid=b9dd6c497&_ss=r
---
More from this collection