Turbo Speed Sensor Kit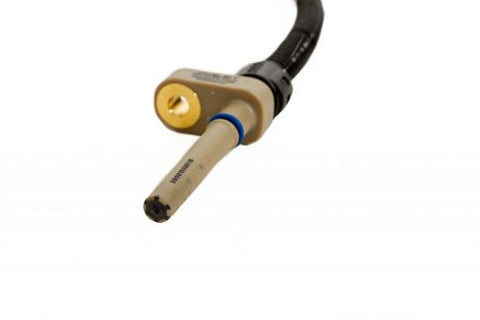 Turbo Speed Sensor Kit
Turbo Speed sensors are critical in accurately identifying how fast the turbo is spinning and where your engine is operating on the compressor map. Traditionally, installing these sensors was difficult for the end user – requiring complex machining at a compound angle to carefully hit the contour area of the wheel bore at the right angle. The latest generation BorgWarner and Garrett G turbos have this precision machining already done to every EFR compressor cover. 
GARRETT IS PLUG AND PLAY, NO DRILLING
BORG WARNER INSTALLATION PROCEDURE:
A 1/4″ Drill bit is all thats needed and the length/depth is very short. This hole allows the top of the sensor to come flush with the contour surface. The hole does not have to be precise as no sealing takes place in the small hole that the user just created. The hole must be deburred where it pierces into the wheel bore. The goal is to make sure that there are no sharp edges remaining in the wheel bore that the compressor can become caught on. The speed sensor is powered by a +5V supply and the return signal is a variable frequency square wave that has maximum amplitude of 5V and has a 50% duty cycle.
1.

 

Remove compressor cover from turbo (CAREFULLY)
2. Place cover on a table, with some kind of backing so that it won't slide while being drilled
3. Equip a hand drill with a 1/4" drill bit
4. Drill out the bottom of the speed sensor bore while being careful not to nick the side-walls of the bore where the speed sensor o-ring will seal.
5. De-burr the hole where it protruded into the compressor wheel region.
6. Lubricate the speed sensor o-ring
7. Install the speed sensor into the bore and check for a good fit.
8. Use a file on the mounting surface if the sensor needs to protrude further into the bore. The sensor tip should be nearly flush (within 0.5mm) with the edge of the hole.
9. Tighten speed sensor hold-down bolt.
10. Re-install compressor cover on turbo and verify that the compressor wheel spins freely.
---
More from this collection