Universal Billet Aluminum Vacuum / Boost Reference Distribution Block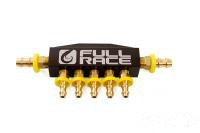 Universal Billet Aluminum Vacuum / Boost Reference Distribution Block
Full-Race's billet aluminum vacuum / boost reference billet distribution block is made to simplify boost and vacuum lines for an aesthetically pleasing installation.
The design allows the CNC machined Vacuum / Boost Reference Distribution block to be mounted in literally hundreds of different engine bay locations depending on your application.
This manifold is CNC machined from 6061 aluminum with 7 NPT ports providing you many different options for line routing, making this boost reference block the ideal solution for any vehicle requiring a boost or vacuum reference. This works great for plumbing to your boost reference fuel pressure regulator, manifold pressure wastegates, boost gauge, blow off valve, map sensor, boost controller, wastegates, overboost protection, and many other items.
Vacuum / boost signal connection examples:
Fuel pressure regulator
Boost Gauge
Wastegates
Blow off valve
Boost controller
Applications:
Universal, fits all applications
Application Notes:
Full-Race recommends referencing the wastegate manufacturer's installation instructions before connecting vacuum lines to the wastegate. Some manufacturers require that the wastegate diaphragm only reference boost or positive pressure.
Includes:
(1) Vacuum Block
(2) 1/4 NPT to 3/8 barb fittings
(5) 1/8 NPT to 1/4 barb fittings
---
More from this collection