Racing Beat Y-Pipe Section 86-92 RX-7 (All) 16447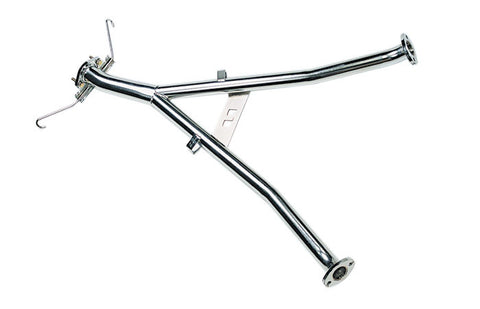 Racing Beat Y-Pipe for all 1986-92 RX-7 Applications
The Racing Beat Y-pipe for the 1986-92 RX-7 (All Models) is a perfect replacement for a failing stock component. The Racing Beat Y-pipe is slightly larger in diameter than the stock non-turbo Y-pipe, and matches the diameter (2.5" OD) of the stock TURBO II Y-pipe. Therefore, if you are replacing the muffler(s) on a TURBO II application, and unless the original stock Y-pipe is failing, there is no performance benefit to be gained from the addition of this Y-pipe. This Y-pipe includes the Cat-to-Y-pipe gasket. If needed, the Y-pipe outlet gaskets can be purchased separately. Manufactured by Racing Beat using heavy-walled steel tubing and laser cut flanges then finished with a chrome-plated surface coating for excellent durability.
Replacement Rubber Exhaust Hangers
Replacement of the original rubber exhaust hangers during the installation of any new exhaust component is recommended. Over time the original rubber hangers can deteriorate, crack, and fail; which can result in the incorrect alignment of the exhaust system.
Replacement exhaust hangers for all models of 1986-92 RX-7's are also available. Review the Exhaust Hanger Chart for details on the exact components that are required for your exhaust system.
---
More from this collection