Cooling System
HPS Reinforced Silicone Radiator Coolant Hose Kit Mazda 93-97 RX-7, 57-1035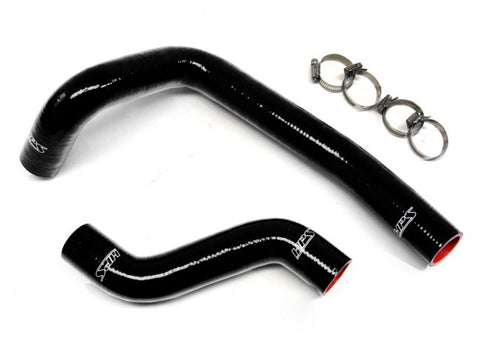 Mazda 93-97 RX-7 HPS Reinforced Silicone Radiator Hose Kit replaces OEM rubber hoses with precise fitment and long lasting quality, reduces the risk of component failure while maintaining higher temperature and pressure, perfect for racing or daily driving.
 Key Features
Stay Cool - Old cracked or split radiator hoses are not efficiently cooling your engine which can cause it to overheat leaving you stranded. So maintain your Mazda RX7 cooling system by replacing your old brittle hoses now before it's too late. Perfect for racing or daily driving application.

Direct Fit - HPS silicone radiator hose kit has all the correct bends and curves for a perfect fit replacement on your Mazda RX-7, it is not a cheap one size fits all universal hose you get at the local parts store that you have to fight with to install.

Premium Quality - HPS Silicon coolant hose kit is made from multi-ply premium grade silicone and reinforced with high-quality polyester for which reduces the risk of component failure and enables higher temperature and pressure to be maintained with complete confidence.
Technical Specifications
Temperature Range:- 65 deg. F to + 350 deg. F (177 deg. C)
Color: Black
Material: 3-Ply Reinforced High Temp Silicone
100% Stainless Steel Clamps are included for easy installation
Vehicle Application
1997 Mazda RX-7 FD3S
1996 Mazda RX-7 FD3S
1995 Mazda RX-7 FD3S
1994 Mazda RX-7 FD3S
1993 Mazda RX-7 FD3S
Silicone hose is NOT compatible with fuel or oil.
Part Number: 57-1035-BLK
Part Number: 57-1035-RED
Part Number: 57-1035-BLUE
---
More from this collection