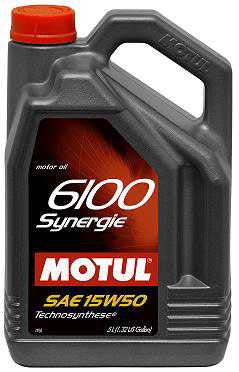 We use this Motul 6100 in our #25 road-race car. It is ideal in situations where a full synthetic engine oil is undesirable, such as with E85 or Alcohol fuel in a rotary engine. We recently tore down the single turbo 13B-REW on our #25 car and found the internals and bearing surfaces to be immaculate as if they had never been used.
Technosynthese® lubricant particularly recommended for the latest powerful gasoline, diesel, LPG, turbo and injection engines. The reinforced synthetic base stock provides very high lubricating power which reduces friction and volatility. 
Sold in 5L (1.3gal) bottles.
---
More from this collection