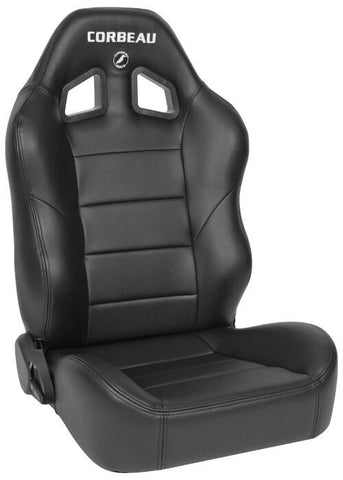 The Baja XRS Suspension Seat is one of the most anticipated seats ever to be offered to the Jeep, Truck, and Off Road community. You may have seen our advertising campaign asking enthusiasts to help us come up with the ultimate reclining suspension seat and the ideas came flooding in. In 2008 we changed the game when it came to suspension seats by offering the world the Baja RS, one of industries first reclining suspension seats. Three years later we realized there was still more that needed to be done to make the ultimate reclining suspension seat. When you hear suspension seat you immediately think off road driving, which is obviously why suspension seats were originally made. We wanted those who aren't interested in off road driving to experience just how comfortable a suspension seat can be, while at the same time coming up with something that satisfied our off road customers. Suspension seats are known for helping absorb the impact that your back usually endures while driving, especially over bumps both small and large. In the end we decided to combine the injection molded foam used in most Corbeau reclining seats with the Corbeau Suspension Technology. Most suspension seats use a cut foam, which over a short period of time will soften and wear to the point that your back and legs will pay the price. The Baja XRS on the other hand uses injection molded foam, which combined with our suspension technology, will provide unmatched comfort and support for years to come. The Baja XRS Suspension Seat is a direct bolt-in to most Jeep CJ5's and all CJ7's and YJ's. It will fit in any other vehicle with Corbeau custom brackets. The Baja XRS is available in black Vinyl and Vinyl/Cloth materials. The Baja XRS will fit up to a 42 inch waist.
*THIS SEAT IS PRICED PER PAIR*
PLEASE CONTACT US DIRECTLY FOR ACCURATE SHIPPING COSTS BEFORE CHECK OUT !!
---
More from this collection