HT-140904 Elite 1500 Premium Universal Wire-in Harness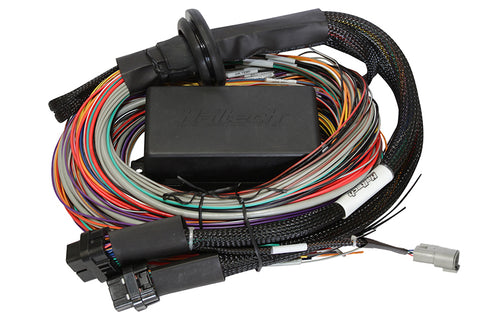 Elite 1500 Premium Universal Wire-in Harness
Length: 2.5m (8')
HARNESS OVERVIEW
Ideal for dedicated race cars, engine swaps and custom wiring jobs. The Universal Wire-in Harness has a set of ECU connectors at one end and unterminated wires at the other. All the wires at the unterminated end are colour coded and clearly labelled. Connect your Haltech ECU to the terminated end and follow your wiring diagram for all the engine connections. Load your base map and you're ready to go!
Colour coded and labelled wires that match the detailed wiring diagram for a confusion free construction process.
The wiring diagram is accompanied by the full ECU manual and Software located on the CD or USB key provided with the ECU to refer to while completing your installation and configuration.
HARNESS FEATURES
This harness when installed in conjunction with a Haltech Elite ECU opens the door to virtually limitless performance modification and tuning of your vehicle.
Fully programmable systems allow you to extract all the performance from your engine by delivering precisely the required amount of fuel and ignition timing that your engine requires for maximum output under all operating conditions. 
Includes: Firewall grommet, moulded 6 power circuit Haltech fuse box and lid. 4 relays, 7 fuses and pins for the 2 spare power circuits.
IMPORTANT EMISSIONS NOTICE:
In many states, it is unlawful to tamper with your vehicle's emissions equipment. Haltech products are designed and sold for sanctioned off-road/competition non-emissions controlled vehicles only and may never be used on a public road or highway. Using Haltech products for street/road use on public roads or highways is prohibited by law unless a specific regulatory exemption exists (more information can be found on the SEMA Action Network website www.semasan.com/emissions for state by state details in the USA). It is the responsibility of the installer and/or user of this product to ensure compliance with all applicable local and federal laws and regulations. Please check with your local vehicle authority before purchasing, using or installing any Haltech product.
---
More from this collection