IGN-1A High Performance Ignition System (FD3S RX-7, LHD Mount)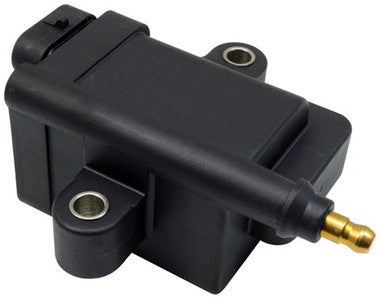 The IGN-1A Smart coils are a must have for high horsepower FD's. Originally designed great alternative to the factory coils and HKS twin power combination. The issue most will face when upgrading to the marine coils is wiring them up and finding a location to mount them. We have designed a complete package for anyone looking for a completely bolt on mounting solution. 
IGN-1A Smart Ignition coils
Designed for two-stroke marine engines requiring lots of spark, these coils can not be beat for the rotary! Rotary and two-stroke motors behave very similarly with twice the ignition events per revolution compared to a standard 4 stroke motor (which more coils are designed for).
CDI-Level spark energy without a CDI make these IGN-1A Ignition Coils a must for boosted, high RPM, high compression and nitrous-equipped vehicles! The trade off between adequate spark energy and adequate spark duration ends with the IGN-1A High-Output Inductive Coils, the first inductive coils that deliver CDI-like spark energy and voltage, and a long spark duration necessary for vehicles running high compression, high rpm, forced induction and/or nitrous engines.
The IGN-1A High-Output Inductive Coils each deliver over 100mJ of spark energy and a minimum of 40,000 Volts - as much as most CDI systems, without the need for a CDI module! They also provide very long spark duration at full energy, unlike CDI systems and multiple spark systems which fire off small spark events prior to and after their CDI burst to mimic longer spark direction.
With our coil upgrade package IGN-1A High-Output coils easily install in place of your existing coils. They are constructed to operate in harsh environments and are shock and weatherproof allowing them to be mounted virtually anywhere. The High Output coils cost less than the cost of aftermarket LS1 coils and deliver World Class performance. They are currently running on 2,000 horsepower nitrous motors without a CDI, and the perform flawlessly.
Highlights:
CDI-like spark energy without the need for a CDI
Robust construction for long life
Available for vehicles with or without external igniters
Massive Spark Energy, up to 118 mJ!
Up to 41kV Output Voltage, without a CDI
Weather and Shockproof design
Harness connectors and terminals included
SBG IGN-1A (AEM/Mercury Marine) Smart Ignition Coil mounting kit
The mount we have designed, places the coils next to the brake master cylinder where the cruise control would reside (removal of cruise control required). As with most of our products the mount is completely bolt on and easily removable requiring no permanent modifications. It allows direct access to change plug wires, and as a side benefit you can remove your old coils from under the UIM.
Highlights:
Completely bolt on
OEM appearance
Black powder coated steel mount
Stainless steel mounting hardware
Aluminum spacers included
Plug Wires
To compliment the mount we are also offering accompanying MSD SuperConductor Spark plug wires, for a true plug-and-play coil solution! to round out our package we offer custom made MSD spark plug wires specifically to work with our mounting solution (Custom lengths also available). Whether your car is stock or a 500HP monster these wires will suit your needs and meet or exceed your expectations. Our spark plug wires utilize MSD 8.5mm super conductor wires and the highest quality connectors and boots. MSD's 8.5mm Super Conductor wire sets feature a proprietary helically-wound core that has just 40-50 ohms of resistance per foot--but with an EMI/RFI suppression equal to a 1,500 ohm wire! What's that mean? More energy from your coils make it to your spark plug wires which would otherwise be converted to heat in a standard wire. Less resistance means less energy converted to heating the wire, resulting in a stronger spark and longer wire life. These are the best wires money can buy!

We stand behind these wires and individually test and record the ohm rating of each of your plug wires. Not only does this allow you to see the difference in your own wires compared to the others on the market, but also gives you a base-line reading to track the life of your wires over time.
Highlights:
Excellent EMF suppression
Outstanding Silicone Insulator
Spec Sheet Provided
Ultra-Low resistance
Adapter Harness
The last and most important part of our coil upgrade package is the adapter harness.
We created our harness to be easily adaptable and comes wired for waste spark. If you are currently set up for direct fire (or if you change setups in the future), the harness can be converted to direct fire by the customer within minutes.
. 
You can find harnesses cheaper than ours, but we didn't want to compromise quality on our product by using cheaper components, which could cause issues down the line. Our harness is built to last and in the end it comes down to what you're willing to spend. 
Installing our harness is as simple as re-pinning the factory igniter connector (using our instructional video below) and following our detailed instruction guide. Since our connectors are compatible with the factory wiring there is no cutting or splicing required! 
Highlights:
Mil spec M22759/16 Wiring 
40 amp sealed relay
isolated engine and battery grounds
weather sealed fuse holder 
Delray V25 loom
Coil connector strain reliefs 
Cables labeled to be easily identified 
Easy install (no cutting or splicing required)
---
More from this collection