IRP Haltech Elite Bracket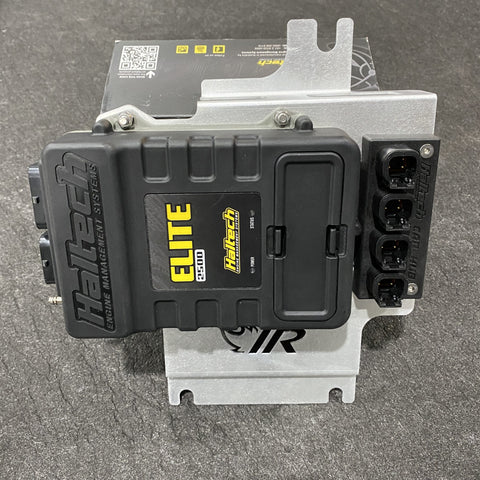 This stock mount bracket allows you to mount any Haltech Elite from the Elite 1000 up to the Elite 2500(T), Up to 3 expansion modules (TCA2/4, WB1, IO12, etc) from both the Elite and Platinum Series of expansion modules, and even Elite CAN Hubs. All while fitting comfortably in the stock ecu location and allowing you to put the kick panel back on.
Whether you prefer this to simply have a tidy installation for cleanliness reasons or for reasons of hiding the installation from others, this is your solution.
We have been using this setup on our In-House installations for some time now and we have seen amazing results. We decided to run a large quantity of these and offer them for sale to the community instead of only limiting them to in-house installations moving forward.
Laser cut from 5052-H32 & 6061-T6.
Available in your choice of clear or gold iridite coating.
All Stainless Steel Mounting & Assembly Hardware is included.
Also includes vibration dampening foam strip for accessories.
Note: For the CAN Hub to ECU Connection we have found the Haltech Elite CAN Cable DTM-4 to DTM-4 Length: 6″/150mm – Part Number: HT-130021 to be perfect.
---
More from this collection