Koyo Hyper Radiator Cap, KOYO-SKC-13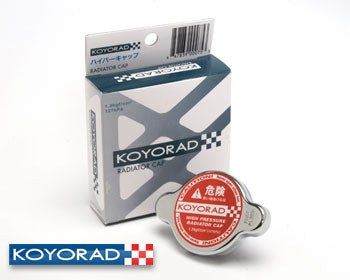 Koyorad Hyper Radiator Caps are intended for use with Koyorad Aluminum Performance Radiators. Made in Japan, this genuine Koyorad radiator cap offers excellenct sealing qualities when installed on a CNC-machined filler neck of a Koyorad radiator. Designed with an increased valve pressure rating of 1.3 Bar (1.3kgf/cm2, 18.9 PSI, 127 kPa). With a Koyorad Hyper Cap installed, the natural boiling point of water is increased beyond the rating of the OEM radiator cap, which improves the heat capacity the engines' cooling system.
Koyorad Hyper Radiator Caps are not intended for use with OEM type radiators with plastic tanks.
Part # KOYO-SKC13
---
More from this collection