Racepak SmartWire Kit 500-KT-SW30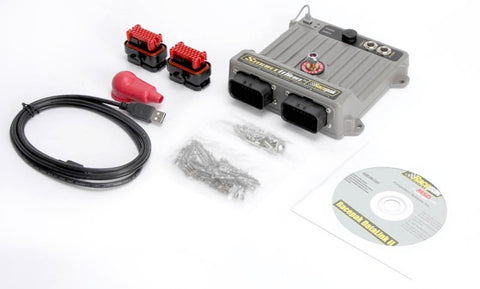 Solving the wiring complexity of the modern race car, the Racepak SmartWire is a fully programmable power control module. While traditional wiring provides control of vehicle electronic components through the routing of wiring to single or multiple fuses, relay and circuit breaker panels, the Racepak Smartwire functions as a central "command center" for all vehicle wiring.
Think of the Racepak SmartWire module as the electronic "starting point", with a direct main power connection from the vehicle battery to the module. Each input/output is then user defined, both in function, power requirements and current exceeding limits via a USB connection to the user's PC. The design of the module functions to both reduce overall installation weight and clutter, while providing a quicker reacting electronic system, through the solid state switching design.
Manual activation can be achieved through use of either an optional eight switch panel or 16-channel switch module. From the Racepak Smartwire unit, a single small cable is routed to the SwitchPanel, reducing wiring clutter. Users needing additional switch panel capabilities can easily expand through the use of a "jumper" cable to a second Racepak SwitchPanel.
Racepak SmartWire connects to a number of Haltech devices via a CAN port, expanding the functionality of Haltech ECUs, Dashes and I/O devices even further.
Channels:
30 total channel outputs =
8 channels @ 20 amp maximum
22 channels @ 10 amp maximum
12 hardwired switch inputs
Capacity: 125 Amps
Data Output: Volts/Amps/State
Response: 3.0 millisecond
Programming: USB Interface
Includes:
Racepak SmartWire Module
Software
Connector Kit
USB Programming Cable
---
More from this collection